The Incredible Smashers
Edit
A DCUO League of Heroes established by CdViper Smash that help each other smash villainy, with no discrimination on levels, gear, or CR/PvP ratings, and play everything from PvE to PvP on USPC.
Guild Launch Website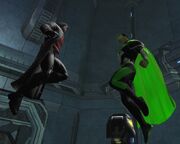 The Incredibly Smashing Roster
Edit
Ad blocker interference detected!
Wikia is a free-to-use site that makes money from advertising. We have a modified experience for viewers using ad blockers

Wikia is not accessible if you've made further modifications. Remove the custom ad blocker rule(s) and the page will load as expected.